Girls Fun Tee PDF Pattern Piping Hack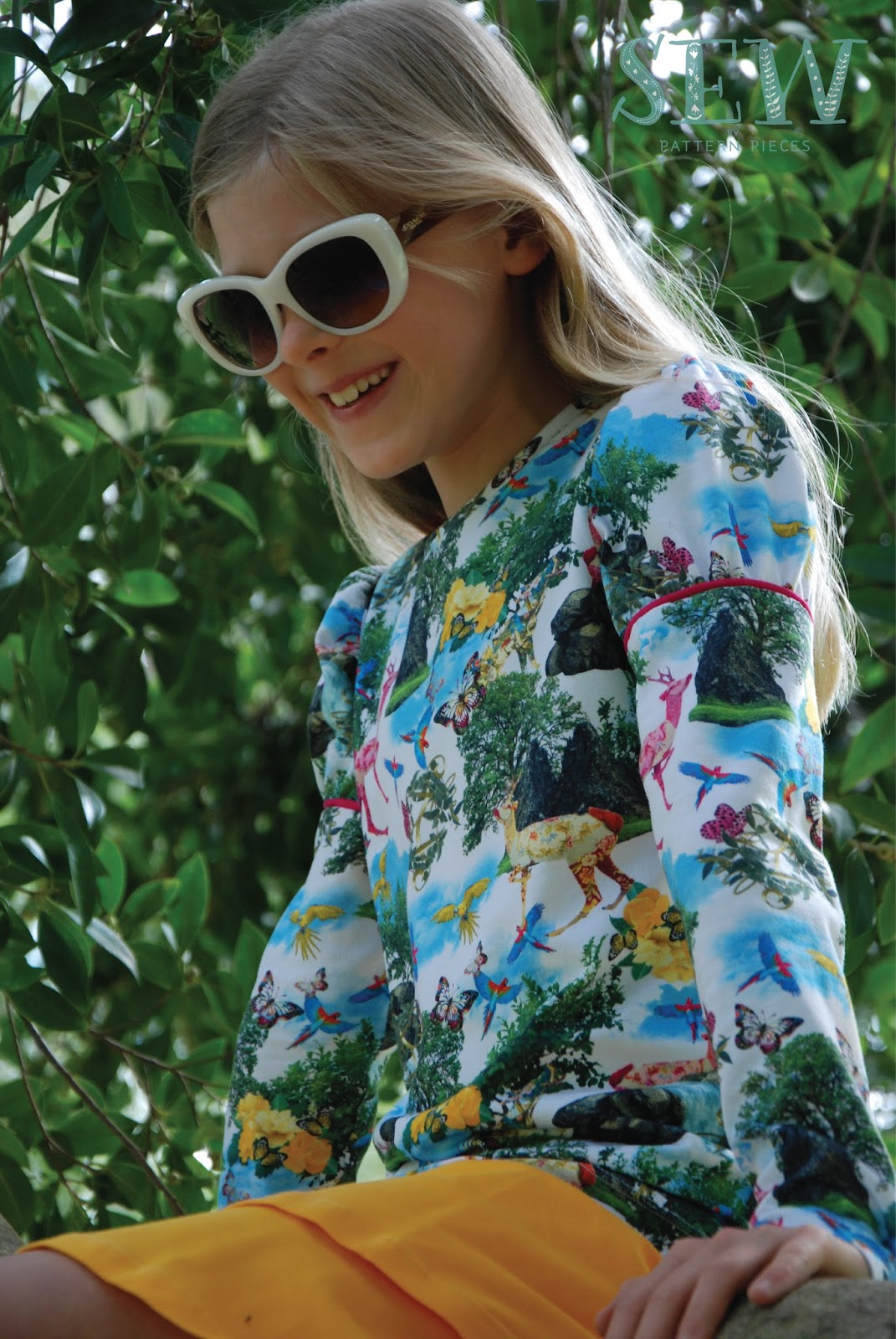 I am really excited today to share with you the technique of adding piping to a sleeve.  This technique can be used for many projects.  I will be adding piping to the "Gathered Long Sleeve" of my Fun Tee, however, you can add piping to any project. 
1.  Firstly, cut a long strip of fabric and piping, enough for your entire project.  We are using stretch fabric so you will need to make sure that the stretch goes along the length of your strip of fabric.  For this project, the piping will be going around the body.  You will need to determine the width of your fabric by wrapping it around the piping and making note of that length and adding twice your seam allowance.
2.  Next, using your zipper foot and a long straight stitch sew a row of stay stitching along the edge of the piping.  If you wish you can sew this in a contrasting thread to make it easier to see if you wish to remove it at the end.
3.  Stitch the strip of prepared piping to the lower edge of the sleeve using your zipper foot and straight stitch.  This stitching could also be in a contrast colour for removal later.
4.  Prepare the gathered portion of the sleeve by sewing two rows of gathering along the top and lower edges.
5.  Now attach the upper sleeve to the lower sleeve, again using the zipper foot and a straight stitch  Prior to sewing, reduce the length of the straight stitch and ensure that you sew in the colour of your main fabric, slightly stretching your work as you sew.
6.  This is what your project will now look like from the right side.
7.  Now you can remove the piping and any of the gathering or stay stitching threads that are exposed.
8.  Now that the bulk of the piping has been removed you may wish to add a row of overlocking or edge stitching to neaten the raw edge.  However, as this is made from knit fabric it is not necessary as the fabric will not fray, it would purely be done for aesthetics and neaten the inside.
The Gathered Long Sleeve can be completed by following the instructions that come with the Fun Tee pattern. 
 If you would like a matching skirt for your new Fun Tee the Skip Skirt and Leggings go really well and are a great wardrobe staple for summer or winter.
You can also visit our sewing group to ask questions or to gather more sewing inspiration. 
Shop for Pattern: HERE
Instagram Hashtag: #funteepdfpattern #sbppfuntee #sewbypatternpieces
Pinterest Page: HERE